It is eerily starting to feel like one of the worst periods I can ever remember for the Rossoneri. 11 seasons ago Milan looked a bit like it does now, and though it may be hard to really think and talk about it, it is really worth exploring the cause and aftermath and how it matches what is going on now.
The 1996-1997 Serie A campaign was the final one for the last great man to wear the armband for the Rossoneri, Franco Baresi. Milan was in a period of coaching transition, aging veterans, and coming off old success. They were never really able to get off the ground under Oscar Tabarez and after a bit of a coaching carousel ending with the return of Don Fabio, Milan finished 11th in the table, and crashed out of Champions League ending the final season of Franco Baresi on a very low note. Though it was as terrible time that lead two a season or two of abysmal performances, it was not long before the squad was tinkered with, young players were brought in and Milan were once again fighting for the scudetto and the Champions League trophy once again with Alberto Zaccheroni winning the scudetto in 00-01 and Carletto earning CL glory in 03.
The recipe for the rebirth of that squad was to maintain a nucleus of Italian players such as Maldini, Costacurta, and Albertini, while adding good foreign players, such as Sheva, to compliment the Italian talent. The club also established youngsters such as Ambrosini, Gattuso, and the former greats of Coco, even somewhat Panucci, and later Ricky Kaka. It was a very strong systematic approach that helped resurrect a club that needed a good kick in the pants.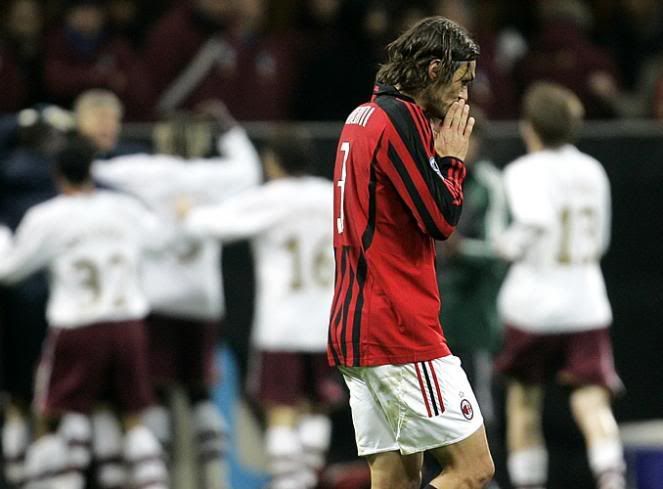 Fast forward, Milan now sit in 5th place in Serie A, crashed out of the CL, and having an aging lineup with another, even greater, captain preparing to call it quits. By the looks of things we are headed into another dark age of the Rossoneri, but alas there may still be hope. With proper recognition of the problem, and the avoidance of the doomed coaching carousel Milan can come out of this stronger, younger, and challenging even sooner for the a place at the top, where we all believe they belong. My recipe for the rebirth of the Rossoneri is as follows: (feel free to share yours as well)
Coach: Carletto is a great coach, but his time at Milan, in my opinion is all done. He has achieved everything that was expected of him and it times to inject some new leadership into the squad. The Milan brass need to identify and hire a coach with strong pedigree and past experience to avoid having to fire and rehire and cause unneeded upheaval. My coach would come of the pool of Frank Rijkaard, Lippi, or Mourinho. We all know what Jose and Lippi can do, but people forget that Frankie did some great things at Barca, and is another coach who has worn out his time at the club. Also Rijkaard's teams play beautiful football, and we deserve to see some of that again.
Defense: The defense needs an overhaul of young players to back up and circulate with the veterans. Guys like Favalli, Cafu, Simic and even Janks need to make way for a new blood. As I have always said thank you for the time and service, but it is time everyone amicably parts ways. Getting Zambrotta would be nice as well.
Midfield: Is where we are still strong, but youth and attacking talent is needed. Seedorf has been a loyal servant, but he needs to make way for Cuffy, or another young tre-quartista or winger to compliment the new coaches system.
Strikers: Pato will be successful but he still has a lot to learn and Pippo will be a great threat from the bench. Gila needs to move on not only for his own sake, but for the sake of the club as well, a new coach may help him, but he may not stay around that long to find out. Milan need to bring back Borriello as well, I have seen the goals he scores, this guy is for real, and he plays with fire and heart that, no offense, only an Italian can in the Serie A can do. It does not mean that another veteran striker cannot be added, as well as another youngster. Again it depends on the coach and system, for example with Jose comes Drogba or Eto with Frankie. If Lippi comes in, I would expect an influx of Italians who want to rekindle the WC06 glory such as Luca Toni….again we can postulate and certainly dream, but only time will shape the stikers.
Out with the Old and in with new…dark days have come and gone, and hopefully they will come and go again.