This is probably the only time I will say this in my 25 years of life, cheers to Inter. Why would I say such crazy things? Sure I drank a few beers with dinner but that's not the reason, the real reason is that Inter have done Ol'Sil and Fester a huge favor. They are very near closing a deal for Silvio's former crush Ronaldinho. This is great news on a few fronts; first and foremost it makes 'Dinho no longer available for us. Second of all it keeps us from being embarrassed in a bidding war, which I prefer the squad did not win. Third is Ronaldinho just plain sucks in 08.
The downfall of Ronaldinho is completely beyond me, but he has not been in form since the end of the 06 World Cup. It was a horrible performance by his standards and one that he has not since recovered from. Just this past weekend the Barcelona medical staff hit back at Frank Rijkaard who continues to say 'Dinho does not dress because of injury. The medical staff dispelled this notion and clearly stated Dinho does not dress because he sucks.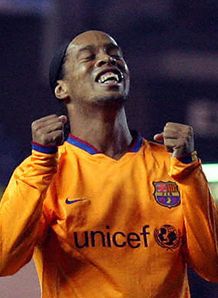 For all we know the buck toothed Brazilian may be reborn in the black and blue, but I believe this is highly unlikely. Inter has not been all that kind to Brazilian players for example Ronaldo and Adriano. Ronaldo had to leave Inter to regain some sense of form while Adriano has gone completely insane, telling the press that they can only refer to his as "The Emperor." The real problem is the lack of discipline on the wrong side of Milan, these Brazilians Ronaldo, Dinho & Adriano are not exactly the tame and Jesus loving Kaka type, and they did not succeed in a club that typically does not have coaches who rule all that strongly.

(Note the unattractive women, and cigarette. Pure class.)
Mancini plainly proved that he was incapable of even dealing with Adriano and has made many ultimatums that he does not want the Emperor on the squad. He has also failed to reign in Zlatan who is a bit of a premadonna who needs a strong coach to keep him in check, ala Capello.
Like a said earlier, this really helps and keeps the Rossoneri from making a big mistake and frees up money to spend elsewhere. Regardless, Inter is going to spend a ton of cash on this upwards of around 60M with the help of Nike, which leads to the shrinkage of Moratti's transfer wallet, and may even start some egos to rip out of the wrong side of the San Siro. This move may also leave to the transfer of the Matrix, the only Italian starter on Inter FC.
I recognize that if Nesta started the game against France in the WC06 Zidane who not have been shown red, and Italy may not have won the WC, but I still and will always hate Matrix.
Watching Del Piero make him look silly this weekend was just fantastic in my opinion and good riddance if he goes to Barca, it will certainly move Zambrotta to the San Siro.