Was it a needed 3 points, yes. Did it come easily, no. Was it pretty certainly not, but the squad needed the points so badly that it is hard to really argue how they got them.
Carletto's Lineup today featured two strikers sensing a bit of urgency for goals, or the fact that Kaka is lost with a bad back (which is by no means from carrying this team!).
Kalac; Oddo, Nesta, Kaladze, Maldini; Gattuso (Brocchi 66), Pirlo, Ambrosini; Seedorf; Pato, Gilardino
The goal in the 66th minute from Pato, was the product of a great hold and link from Gila. We may give Gila a ton of grief, and he missed a cracking chance today, but with his back to goal he holds the ball extremely well and makes the smart pass when needed. He may have to leave the team for his own good, but if his role was reduced to a supporting striker instead of a goal machine on this team, I think he would do just fine.
Another beauty turned in from Il Capitano today who continues to impress game in and game out. His crosses and work up-field led to a few solid chances in front of net, and a very near Pato goal. The rest of the defense also tightened up a bit today with Kaladze starting to find his form and Oddo actually coming back to play defense.
I will say one thing that I have noticed in the past few weeks, and I would like everyone's take on it. When Milan play the xmas tree formation the defense, Oddo specifically, are meant to really work the flanks which obviously exposes the defense at the back. It's not so bad when Nesta and Maldini are in the center, but if Bonera or Kaladze (of late), and heaven forbid Digao, are mixed into the middle or center of defense is porous. When Milan play two strikers it takes much less responsibility off of the wingbacks for obvious reasons, so the question for Carletto becomes, your team is aging, and the youth is in the attack, so why not play attackers and take pressure off the D? WHY!?!??!?!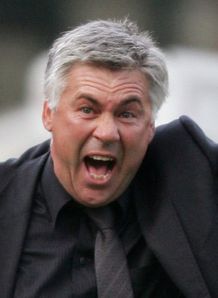 It is simple questions like this that may lead to Carletto's departure, and with Lippi supposedly being contacted by Milan and also Juve. It this decision is going to happen it may have to happen sooner than later. I hate to see Carletto canned, but they can amicably part ways allowing for the Lippi discussions to begin, or whatever coach you fancy at the moment.
Viola wins, and so did Roma, so it leaves us pretty much the same as it was before the games. If the Rossoneri do not capitalize on any lost points from Fiorentina, this season will slowly become a lost cause. I just think I may not have the strength to continue to deal with this woeful scraping by.