Today beckons with an age old question, Inter or L'Pool? Quite frankly if they both somehow eliminated themselves, maybe because Inter has two many internationals and are now considered the Junior Argentine National Team, thus disqualifying them from CL play. Livepool can be eliminated because Dirk Kuyt makes me want to vomit, and they once had Jerzy "Crazy Legs" Dudek as their goalie so they to should be removed from contention. The bottom line as I pull up a seat for this game is that I can careless who wins, as long as their some red cards, injuries, and some overtime to take the best out of Inter for the weekend.
Another strange point has been kicked around the comments and that is should Rossoneri fans root for Roma this weekend? First things Rossoneri fans root for no one other than the Rossoneri, especially when the squad needs all the support it can get. Second, we are not in the CL zone, we are not in first place, and we sure as shit not in the hunt for the scudetto, all this means one thing and one thing only, Rossoneri need points. It does not matter if the opponent is second place Roma, last place Calgliari, or a team of refugees that need the win for safety, I will root for the Rossoneri, and so should you.
In conclusion:
INTER MERDA,


ROMA MERDA,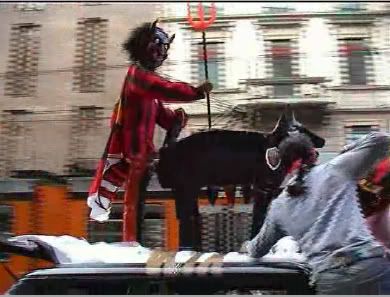 JUVE MERDA,
VIOLA MERDA...
If Roma want the scudetto so badly then let them go after it themselves.
OK I have calmed down so I can recap some more odds and ends.
-Silvio is rooting for Inter; great…I think he may need to read the blog more?
-Ronaldo is back in Italy, why I am not all that sure, but I hope it is to pack his bags. This club needs to move forward and the way I look at it, a fresh off injury Ronaldo does not fit into the plans.
-Brocchi is worried about Milan's performances' as of late, and quite frankly so am I. The team has looked flat since the Arsenal loss, and will really need to find some excitement and spirit if they want push for the fourth spot. The have been gifted with the Viola's struggles and need to capitalize to be in striking distance of them as well as Juve, anything is possible and it is important to be there when it does.
-Marseille are hot and heavy for our favorite benchwarmer Gourcuff, if they want to pay the big bucks, I say Arriverderci. But it will have to a fair amount of cash to make it worth it, and that cash will have to be reinvested wisely to make it all make sense.
See you at the weeks end with a proper preview for this week's big game.