-While I work today my DVR will be diligently recording Atalanta-Milan. Remember this is the game that was postponed after fan riots following the death of a Lazio supporter. I have yet to decide whether I rather this game now or then, either way we need the points. Atalanta is not really high in the table and I do not feel as though three points will be all that difficult to take from them, but nothing has been easy all season long. It is tough to tell if Carletto will bring out the big guns or rest them, I hope he has learned from the B-squad he fielded against Catania.
-I caught a glimps of the saves Kalac made this weekend, and I have to say it was as breath of fresh air from Dida. Kalac is not the answer for the future, but hey if he is keeping balls out of the net then why not go with the hot hand?
-Anyone else think Ronaldo looks a bit ridiculous in cornrows? Bring back the 'fro.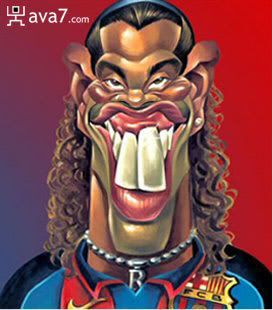 -The 'Dinho talks are borderline heavy and I am afraid that Inter are playing Fester and company for fools. Mancini made a passing that mention that Inter would join the bidding war for Dinho, personally I say let them have him, and see if we can swing Suazo back. I just hope the Milan Brass understand that it is unneccesary to enter a bidding war to save face, I do not want 'Dinho and I am sure many of you feel the same way. Due to the past losses of Ibra and Suazo I do not want tihs Ronaldinho debacle to become a must sign to make up for past mistakes.
-The January transfer window is nearly closed and it is looking less and less likely that we will recieve any assistance for the rest of the campaign. That does mean that Fester and company are not working dilligently to secure the names and agents of possible summer transfers including Amauri, Drogba, and Zambrotta. The summer is a long way away, but I hope they are thinking about it as much as I am.
-Carletto was named coach of the year for 2007 by a football statistics bureau. He won this award over the likes of Fergie, Cappello, and Mancini. Many of these awards are arbitrary and completely useless but neverthelss the accolades continue to pile up for Carletto who has quietly become one of the best coaches of his era, and despite my lack of faith in him lately, and the possibility that his time at San Siro has run its course, it takes nothing away from the fact that he has some good old fashioned success. A few more scudetto would have been nice, but hey beggars can't be choosers.