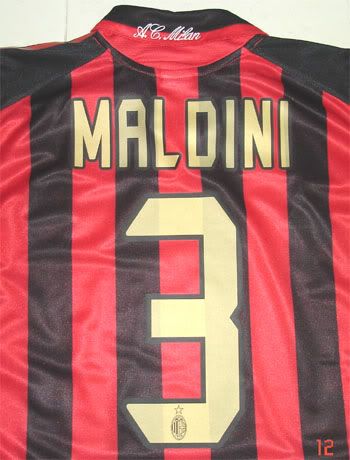 Well the day that most of us have been dreading has finally come, we all knew it was on its way but you tend to worry about it when it actually happens. On the brightside it is going to be awhile and until then we get to enjoy Il Capitano in both Seria A and the Champions League. Now there is no real way to send off Maldini, no games, no parades, or celebrations would be enough to measure up to the accolades, but here at the Milan Offside blog I thought we could spend the next few Mondays, up until his retirement, honoring and rembering all the awesome things he has done.
I do not even believe that there are enough Mondays in the year for this but I would like the blog and the comments to act as forum to share all the videos, pictures, and statistics to send off arguably the greatest defender of all time, and at times one of the best players the world has ever seen. I will post all the shared stuff so we are sure to have tons of contents for the Monday's to come.
We will start things off slowly this week with a simple video of Maldini hoisting last year's Champions League trophy, remember Milan still have a chance to win another, but we can all marvel at the years he has won.
1989, 1990, 1994, 2003, 2007

Milan's Celebration For Uefa Champions League 2007 - Click here for another funny movie.